Join us as we explore some of the best breweries that Regina has to offer!
Over the past 10 years, we've seen a plethora of craft breweries popping up all across Saskatchewan! Regina being a host to a number of them! The communities love for beer here runs deep. Today, we'll explore some of our personal favourites: Pile O' Bones Brewing Company, Warehouse Brewing and Malty National. Call your crew, select your designated driver then HOP in the vehicle and get ready for a day of brewery fun!
Pile O' Bones Brewing Company
Pile O' Bones is an awesome and relatively new local brewery located on Saskatchewan Drive! Their well-designed interior paired with their epic patio make for a pretty awesome spot to sit and enjoy a beer…or two!
Download the app Digital Pour and you'll be able to browse their expansive list of craft beers and ciders. Can't decide on just one? Grab a flight! This option allows you to choose 5 beers from the list and hmmm and haw over which one's your favourite!
Our personal favourites are:
POB White IPA: citrus and fruity hop flavours. Low on bitterness!
Hibiscus Lime Gose: Tropical berry flavour infused with hibiscus.
For the Designated driver, we love a virgin Caesar to really put some pep in your step!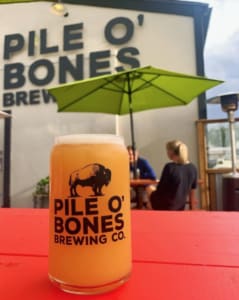 Find them on Instagram @pileobonesbrews
Warehouse Brewing Company resides in the old Weston Bakery building and is dedicated to creating new and old-world style beers with a touch of Saskatchewan flair. It goes without saying, this iconic location has stood the test of time. With a fresh new update, they were able to preserve the history and provide customers with beautifully crafted beers in a welcoming environment. They also have an amazing deck, perfect for patio beers on a hot summer day!
Our personal favourites are:
Loading Dock Lemon Ale: 100% Saskatchewan hops brewed with a bright lemon character.
Sasquatch Blackberry Sour: Sour brew is comprised of BC blackberries and bright rose colours.
For the designated driver, we recommend a Paperback Lemonade. The perfect thirst-quencher.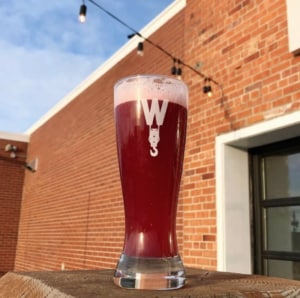 Find them on Instagram @warehouse_beer
Malty National Brewing is another awesome local brewery with a number of rotating beers. Their warm and inviting atmosphere paired with their eye-catching labels and ever-changing designs make for a seriously epic spot to meet up with friends and enjoy a craft beverage.
Our personal favourites are:
Malty Sports: An American wheat ale that is fulled of flavour. This is a malty classic that always comes back!
Impossible IPA: A classic tried and true IPA with all the hops and bitterness that you love.
For the designated driver, we recommend a tasty drip coffee supplied by 33 ? coffee roasters.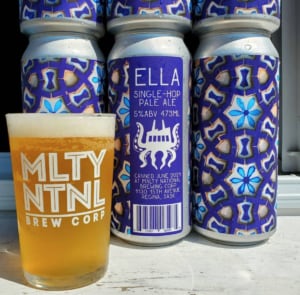 Find them on Instagram @maltynational
The Breweries Await
We've equipped you with all the best local recommendations for your day of brewery beers. Now, it's up to the designated driver to do the rest! Get you and your crew where you need to safely and in style with Lincoln's lineup of luxury SUVs.
The 2021 Navigator

The 2021 Aviator

The 2021 Nautilus

The 2021 Corsair
Build your Lincoln today, so you can get on the road tomorrow. Call or visit us at 1(866)891-9501 and 1201 Pasqua Street North and experience next-level luxury!