Shop Local Treats For Valentine's Day

Support local and get your loved one's tasty treats from all of the best spots in YQR. 
Support Local This Valentine's Day
With a plethora of amazing specialty shops serving up tasty treats, supporting local has never been easier! Hop in your Lincoln, queue up "This Must Be Love" and get ready to secure the most delicious Valentine's Day gifts. 
Grazer Goals
Did someone say charcuterie? Grazer Goals is a local business dedicated to creating one-of-a-kind charcuterie boards and stylized snacking options for your eyes and stomach's pleasure. Browse their Instagram to get some serious inspo for what you may want to see on your board. Meats, cheeses, veggies, and more! The possibilities are endless. Looking to lean into the valentine's day theme? They can customize your board to your specifications – think rosebud salami. 
Direct message the amazing ladies via Instagram to get your custom box started! 
Come Valentine's Day you and your loved one can enjoy good food and great company, rounding an amazing evening spent together.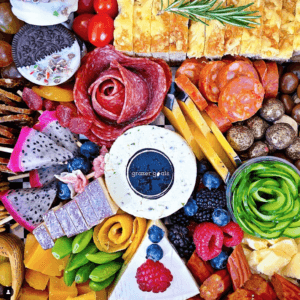 Find them at grazergoals.ca or on Instagram at @grazergoals.
Queen City Cakes
Looking to completely wow your loved one with something that screams "Valentines' Day" and is also delicious? Look no further than Queen City Cakes! Every year they come out with several amazing and unique treats to surprise your loved ones with! From cake truffles and smash cakes to macaroons and fondue, there's something for every sweet tooth out there! 
Shop our favourites below:
Chocolate Covered Strawberries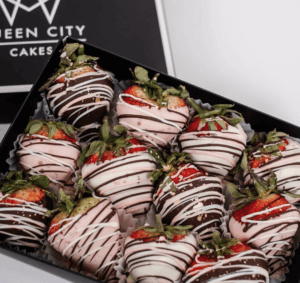 Find them at queencitycakes.ca or on Instagram at @queencity_cakes
Dandy's Artisan Icecream & Luxe Artisan Chocolates
Is chocolate their kryptonite? Cue Dandy's. Last year this local ice cream shop introduced Luxe Artisan Chocolates which are just as much tasty as they are aesthetically pleasing. With a host of flavours, you can mix and match a 6, 12 or 24 piece box as you and your loved one revel in all of the immersive and mouth-watering flavours. 
What's more? They just added 6 new flavours! 
Discover Strawberry Guava, Key Lime Pie, Mango Passionfruit, Black forest cake, Apple Crisp and Pistachio Raspberry. Order yours now.
Find them at luxeartisanchocolates.com or on Instagram @luxeartisanchocolates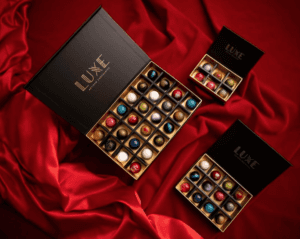 Does your loved one love ice cream? Thankfully they're pretty good at that too! Check out their February seasonals via Instagram and pick up a pint (or two) to enjoy together! Browse all of their signature flavours here. 
Find them at dandysartisanicecream.com or on Instagram at @dandysartisanicecream
The Everyday Kitchen 
Does your love love coffee? Then The Everyday Kitchen is the answer this year. Pick up a handcrafted latte and a box of doughnuts to fuel their coffee addiction and show them just how much you care. 
Choose from cult classics like Brown Butter, Cinnamon Sugar, Honey Dip and more! Plus, check out their Instagram page for their rotating seasonal doughnuts.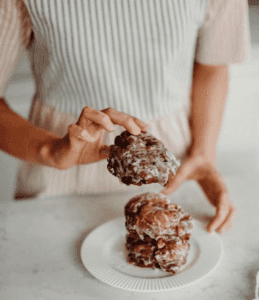 Can't make it out on the day of? That's alright! Pre-order your doughnuts for next-day delivery so come Monday morning they'll have a lot to be thankful for. Pre-order your doughnuts here. 
Find them at theeverydaykitchen.ca or on Instagram at @theeverydaykitchen
Lincoln Love
Whether you're zooming around town picking up the tastiest treats or picking your date up on the day of, your sanctuary awaits. Shop the 2022 Corsair, 2022 Nautilus, 2021 Aviator and the 2021 Navigator. Your perfect SUV is waiting for you.
To learn more about how you can experience Lincoln Luxury, call or visit us at 1(866)891-9501 and 1201 Pasqua Street North and experience next-level luxury!