Sunday Brunch In Your Lincoln

Do you like to Brunch on Sundays? We thought so. Enjoy the taste of immersing flavours at Sunday brunch in your Lincoln! 
But First, We Brunch
Brunch, arguably the best and most important meal of the day is just one short drive away. Hop in your Lincoln, queue up your favourite artist (we like Andy Shauf, because he's a local Sasky and Uhm, that voice) and fire up the navigation. Where are you going, you may ask? Great question. Your Sunday brunch destination is Circa 27, located inside of the Saskatchewan Hotel and in the heart of downtown Regina. You'll notice we have quite the Saskatchewan theme going on today. Buckle up! 
Looks Good, Tastes Even Better
Circa 27 offers a weekly Sunday brunch from 10 am – 2 pm. With limited seating available, we recommend booking a reservation on OpenTablePro Tip: ask for a table near the towering fireplace to achieve maximum warmth. We promise it delivers on the best seats in the house. With local suppliers at the core of their menu, everything from your drinks to your mains offers homegrown goodness. 
Breakfast beers are a Saskatchewan staple and rightfully so. How else would we support Regina's budding industry of local microbreweries? Start your morning with a Beermosa comprised of Pile O' Bones White IPA, orange juice, and saskatoon berry. This IPA combines notes of citrus with light hops to perfectly meet all of your heart's IPA desires. Add your other fruity ingredients and bam….Beermosa heaven. If you're privy to beer, but an IPA isn't exactly up your alley, don't worry, you've got options. Opt for a Pile O' Bones Red Ale or a District Brewing German Pilsner. You're really in pil country now. 
Big Saturday night? For those who are in need of some hair of the dog, we say go for the Bloody Mary. It just hits different.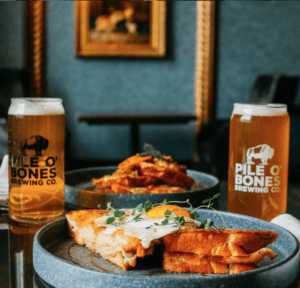 An Explosion Of Flavour
Once you've got your drinks in order, we're onto mains, brunch, the "good stuff." With a well-curated menu, they've got something for everyone. 
For the customer that opted for a Bloody Mary, Circa 27 sees you and they raise you. Behold "The Remedy." Three eggs, Bothwell Farms smoke cheddar, country ham, drake bacon, grilled tomatoes, and Kennebec hashbrowns with honey brown butter. Hello butter, goodbye hangover! 
On a health kick? Cue the Avocado Bowl. When avocado is in the name, you know it's going to be jam-packed with healthy ingredients that will set up to have the most productive day…like ever. Enjoy quinoa topped with marinated tomatoes, spicy Green Sister Garden, Coteau Hill Creamery feta, gremolata, poached egg, cultivated mushrooms and & za'atar dressing. As we said, it's going to be a big day for you. 
And lastly, for the sweet tooth, we recommend the Cinnamon Roll Toast. Because brunch should be fun! We hope your sweet palette is ready for this brioche cinnamon roll, sage brown butter glaze, mixed granola pecan and olive oil, maple syrup, and seabuckthorn jam and cream. Wowza. 
Don't see anything that you like? We doubt it, but if these 3 options don't appease your palette, see their website for the full brunch breakdown. 
Find them on Instagram @circa27 and at  2125 Victoria Ave, Regina, SK S4P 0S3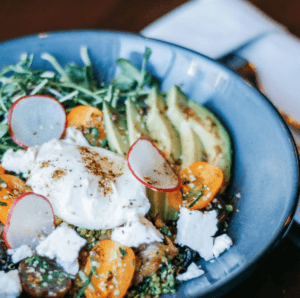 Ready To Roll
After this meal, you'll be ready to roll out of there, literally and figuratively. Leave feeling nourished and content in your Lincoln. Experience the unmatched quality and performance of a Lincoln and explore our lineup. 
The 2020 Navigator 

The 2021 Aviator

The 2020 Nautilus

The 2021 Corsair

The 2020 Continental

The 2020 MKZ 
Build your Lincoln today, so you can get on the road tomorrow. Call or visit us at 1(866)891-9501 and 1201 Pasqua Street North and experience next-level luxury!